Message from the President
Message from President Dennis McIver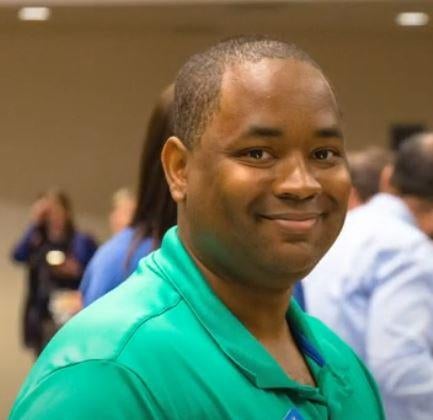 Dear UCR Colleagues,
I am honored and grateful to serve as President of UCR Staff Assembly for the 2020-21 academic year.
The 2020-21 academic year presents more challenges than usual for staff members on our campus. Between COVID-19, worldwide social unrest, and budget impacts, both on and off campus, UCR staff members are shouldering a unique combination of stressors, both professionally and personally. In many cases, staff members are enduring these challenges while minding obligations as friends, parents, and colleagues. Despite the challenges we face, we have all worked tirelessly to keep UCR vibrant and strong. Our remarkable efforts and successes have shown that staff members are, without question, a necessary third leg of the stool that is UCR.
UCR Staff Assembly is a volunteer organization made up of staff employees at the University of California, Riverside. It is also a branch of the system-wide Council of University of California Staff Assemblies (CUCSA), which brings together staff representatives from across the system at quarterly meetings to discuss issues facing staff members, to interact with system-wide leadership, and to prepare research and presentations for the Office of the President and the UC Regents. CUCSA also partners with UC Human Resources on the biennial Staff Engagement Survey.
The 2020-21 Staff Assembly Executive Board, which consists of staff members from our main campus and the Palm Desert Center, is aware of the challenges we are all facing and hopes to support each of our staff colleagues over the next year. Whether we are working in person or virtually, our goal is to ensure you remain encouraged, engaged, and empowered during these difficult times. Since July 1, we have worked purposefully to schedule opportunities to engage you civically, socially, and professionally during the next year. I have been nothing short of amazed by the Staff Assembly Executive Board's work, so far, and know you will be, as well, in the months to come.
Through our social media and listserv, you will learn about the opportunities available to you, which will be occurring on a nearly weekly basis over the next year. For the moment, I ask that you note the following dates, as they mark our general meetings for the year.
| | |
| --- | --- |
| Fall General Meeting | Wednesday, October 28, 2020, 12:00 - 1:00 p.m. |
| Winter General Meeting | Tuesday, February 9, 2021, 12:00 - 1:00 p.m. |
| Spring General Meeting | Wednesday, May 19, 2021, 12:00 - 1:00 p.m. |
Although our work is largely driven by the Executive Board, it does not end there, as our efforts are supported by countless others. If you have participated in support of Staff Assembly, including serving as an Ambassador, volunteering at an event, or serving on a committee – I hope you know you have my gratitude.
As we navigate this next year together, I hope you will consider supporting the work of Staff Assembly through a monetary donation. As an organization led by volunteers, every penny you contribute to Staff Assembly will be used in support of initiatives and programming that will benefit staff members. For information about giving to Staff Assembly, please visit staffassembly.ucr.edu/giving.
If you have questions, would like to volunteer, or would like to learn more about Staff Assembly, please do not hesitate to contact us at staffassembly@ucr.edu. If you have not done so already, please consider signing up for our mailing list as well.
Thank you very much for all that you do in service to UCR. Every step forward we make as a campus is due, in part, to the efforts of people like you.
Sincerely,
Dennis McIver
President, UCR Staff Assembly