Message from the President
Message from President Crystal Petrini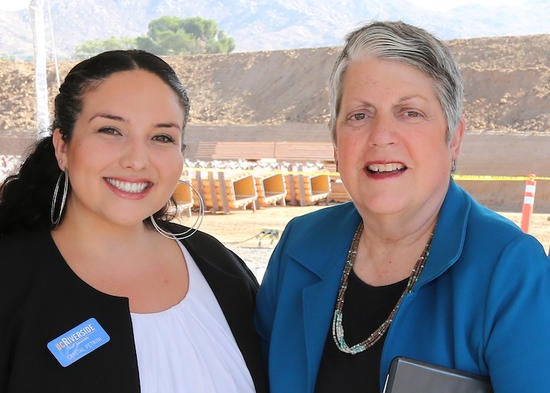 Dear UCR staff family,
For over 35 years, UC Riverside Staff Assembly (UCRSA) has worked to promote the interests and well-being of staff at UCR. It is my privilege to further this tradition of service by serving as the president of UCRSA for the 2019-20 academic year.
UCR Staff Assembly is a volunteer organization made up of staff employees at the University of California, Riverside. It is also a branch of the system-wide Council of University of California Staff Assemblies (CUCSA) which brings together representatives from across the system at quarterly meetings to discuss issues facing staff, interact with system-wide leadership, and prepare research and presentations for the Office of the President and the UC Regents. CUCSA also partners with UC Human Resources on the bi-annual Staff Engagement Survey.
While many people know our organization primarily for our quarterly general meetings and service awards, or for our social events, there is so much more to Staff Assembly.  The organization is essential to the fabric of our campus community and is sanctioned by the chancellor at UCR, the president of the University of California, and is granted authority by the UC Regents to serve as an advisory body to the chancellor and other senior leadership on staff matters, as applicable by law.  In addition, we provide support for staff by offering scholarships and financial assistance and host the annual Community Partner Fair.
This work would not be possible without the volunteers who make up the Staff Assembly Executive Board and the committees that support our programs and events. If you have served as a volunteer or board member in the past, I sincerely thank you for your service.
Financial support comes from a variety of sources, including an annual allowance from the Office of the Chancellor, fundraising events such as the annual Community Partner Fair, and through generous donations by staff members. We do not collect dues but do accept contributions, primarily through our Society '54 payroll deduction program. For information on giving to Staff Assembly, please visit staffassembly.ucr.edu/giving.
If you have questions, would like to volunteer or would like to learn more about Staff Assembly, please check out our website at staffassembly.ucr.edu. Once there, you can also sign up for our staff mailing list or you can sign up at any UCRSA event.
Finally, I hope to see you at one of our upcoming general meetings or events. Please mark your calendars now!
| | |
| --- | --- |
| Halloween Costume Contest | October 7-November 1, 2019 |
| Fall General Meeting | Thursday, November 7, 2019 |
| Holiday Party | Friday, December 12, 2019 |
| Winter General Meeting | Thursday, February 13, 2020 |
| Community Partner Fair | Tuesday, April 14, 2020 |
| Spring General Meeting | Thursday, May 21, 2020 |
Thank you for the work you do as it has helped make UC Riverside one of the world's premiere research universities. UCR wouldn't be what it is without the hard work and dedication of staff members like you.
Sincerely,
Crystal Petrini
President, 2019-20