Quarterly General Meetings
Each quarter, the UC Riverside Staff Assembly hosts a general meeting in Highlander Union Building, Room 302. The meetings are perhaps best known for the presentation of Staff Service Awards, but there is much more to them than that. General meetings include updates on campus activities, presentations and discussion on topical issues, and the chance to meet and interact with your peers from across campus.
Meetings begin at 12 noon, but staff are encouraged to arrive as early as 11:45 a.m. to visit with organizations tabling at the meeting.
Light refreshments are served.
2018-19 Meeting Schedule
Thursday, November 8, 2018
Wednesday, February 6, 2019
Wednesday, May 22, 2019
Time: 12 noon - 1:00 p.m.
Location: HUB 302
---
About the Service Award
Service Awards are presented in five-year increments at the quarterly meeting. They are presented through a partnership between Staff Assembly and the Office of the Chancellor. Visit our Service Award page for more information.
---
Tabling at General Meetings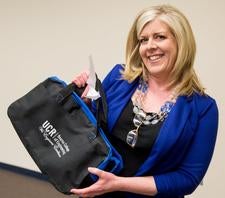 Organizations looking to reach out to staff may request to table at the general meeting. In exchange for the opportunity to table, we ask organizations to provide items for our raffle.
There are six tables available at each general meeting. They are filled in order of request. To request an opportunity to table, please contact the Staff Assembly board.
Staff Assembly sponsors will be given priority.
Tabling does not include the opportunity to speak during the meeting. To request the opportunity to speak during the meeting, please contact the Staff Assembly board.
Organizations tabling are asked to provide two to four items for our raffle. These can include gift cards, branded items, etc.
Organizations are encouraged to hand out flyers or other information pertinent to staff. These can be distributed at the table or put on the chairs.
Organizations may also provide other "swag" items to be distributed to guests.